10 OSINT Tools For Cyber Security Professionals
There are thousands of OSINT tools available online, and it's an arduous task to analyze each one to select the best one. If you are a cyber security expert who needs a quick reference to select the best OSINT tools available, check out our list of the best OSINT tools on the market
Do you remember that sweet neighbor who used to watch all of us from the recesses of their bedroom window? They didn't miss a thing — from the tiffs we had with our moms to the flavor of the ice cream we preferred.
Fast forward to now — social media has replaced that attentive neighbor. If someone has domestic issues, you can likely find information about it online. Want to know which ice cream flavor people prefer? You'll likely find that information on social media.
The wealth of information available on the internet (both on websites and social media) has become the backbone of today's business model. But how can you gather meaningful information from a massive collection of online data? Simple — use open source intelligence tools or OSINT.
What Are OSINT Tools? Open Source Intelligence Tools Explained
Open source intelligence tools can be defined as tools that use multiple methods to gather specific information from publicly available resources and present that information to aid the decision-making process. OSINT tools can be used for good or malicious purposes, depending on who is using them.
In general, OSINT tools check "open" resources, meaning they're scouring resources that are publicly available to everybody online. Of course, there's a plethora of information out there, which creates a lot of data to sort through. These tools help companies make sense of all that "noise" by using artificial intelligence (AI) processes to extract and analyze the data. These tools help cyber security experts carry out the following functions:
extract data you can use to make decisions
organize data in graphs or charts
filter data using geographical, periodical, or other constraints
churn the data into useful information
Needless to say, OSINT tools help in every aspect of business in today's world. Now that we know what open source intelligence tools are, let's look at the top 10 OSINT tools for cyber security professionals.
10 Best OSINT Tools For Cyber Security Professionals
The job of a cyber security professional is never an easy one. A cyber attack can come from anywhere, anytime. As a result, you must always bring you're a-game every day.
OSINT tools assist cyber security professionals in discovering public-facing assets and mapping the information in each to predict possible cyber threats to an organization. They also help cyber security departments scan social media and other sources outside the purview of the organization for possible cyber threats. However, the data collected is hard to process manually — OSINT tools can help organize and analyze it for succinct results.
The following open source intelligence tools can help you, as a cyber security professional, create more robust security within your organization:
1. BuiltWith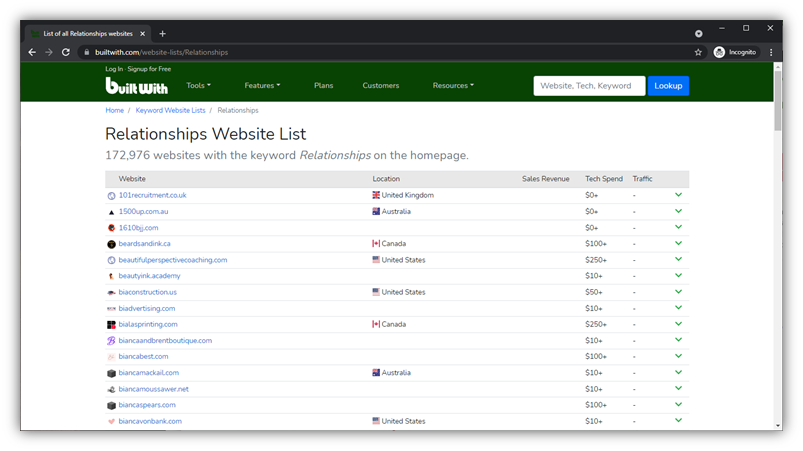 The BuiltWith API tool is an excellent way to figure out the platform on which a website is built (Joomla, WordPress, Drupal etc.) BuiltWith also lets you track the historical records of a website and gives you the history of the technologies used on the website. This can provide an idea about the ideologies of a company.
BuiltWith can also be used effectively in lead generation, sales intelligence, and understanding market share. It uses a little less than 54,000 internet technologies to give a clear picture of trends. The analysis is carried out by including data from over 673 million websites.
BuiltWith customers include Google, Facebook, Moz, PayPal, Twitter, and Amazon. With plans starting at $295 a month (and ranging upwards of $995 per month), BuiltWith caters to all types of customer base. BuiltWith also offers technology sync with Microsoft Dynamic 365 along with many other incredible features.
Some of the advantages and disadvantages of BuiltWith are mentioned below:
| | |
| --- | --- |
| Pros | Cons |
| Provides historical technology usage with links and descriptions. | It works on the internet only. It doesn't work on the intranet. |
| High-speed tool giving accurate and reliable information. | It is not cheap. |
| You can filter reports into many categories. | |
2. Intelligence X
Do you want to include data that is currently not available publicly? Then Intelligence X is your tool. It includes data that had been leaked once but has since been taken down. This search platform lets you work with specific selectors for your search, including:
email addresses
domains
IPs URLs
IPFS hashes
Bitcoin addresses
Intelligence X also searches for data on the dark net, document sharing platforms, and WHOIS records, data from data leaks. They maintain the historical data on their archives to include more in your search results.
Plans vary in accordance with the customers, you can check how much their service will cost you by filling out the inquiry form on their website. Intelligence X is fast, accurate, and reliable. Additionally, the company doesn't keep records of your searches. They follow strict EU regulations as all their servers are located in the European Union.
| | |
| --- | --- |
| Pros | Cons |
| Provides search results from a wide range of sources. | Gives search results for specific categories instead of a holistic search. |
| Very fast tool giving accurate and reliable information. | It is a bit pricey (they offer multiple plans) but gives good value for money. |
| An excellent tool for big corporations and governments. | |
3. Maltego
Maltego is one of the best tools to dig into the relationships between people, companies, domains, and other publicly available data. It's a Java application that's compatible with Windows, Linux, and macOS.
Maltego allows you to gather data from 58 sources in Maltego Transform Hub. It also helps you to combine 1 million entries on a graph to give you a better understanding of the data collected. You can click on any point on the graph to expand the information about that point. You can also export the graph for later use.
In Maltego, you can use built-in search parameters or set your own. Once Maltego gathers information, it establishes a relation between data points, including email addresses, companies, people, domains, and even aliases.
Maltego lets the users try the tool in a free version. However, they also offer different plan options for to meet various customers' needs. The customer base of Maltego includes cyber security experts, forensic investigators, and journalists.
| | |
| --- | --- |
| Pros | Cons |
| Provides search results from publicly facing assets and other open sources. | Maltego uses only open sources. |
| You can design your own query plan. | |
| An excellent tool for big corporations or small businesses. | |
4. Shodan
In a nutshell, Shodan is a search platform that scours the internet for comprehensive information on relating to connected devices (IoT devices). It searches every nook and corner of internet to find all types of devices.
As a cyber security expert, you can use these tools for various purposes. Shodan presents historical insights in month-to-month breakdowns. It shows technological trends and the network reputation of IP ranges. This means it checks whether, at any point, malware was hosted on a site, and how quickly the issue was resolved.
Shodan gives you the facility of real-time monitoring and notifications when there is something out of the ordinary. Shodan is elastic enough to cater to the needs of everyone ranging from a single user to an ISP with millions of customers. Shodan helps you to detect data leaks by monitoring all your devices on the internet, including IoT devices.
Shodan gives you the results from SHODAN database of internet-connected devices, search engines, or PGP key servers. It is a very lightweight tool programmed in Python.
Shodan is also very affordable compared to other tools. You can buy a plan for $59 a month, and corporate plans cost $899 per month.
| | |
| --- | --- |
| Pros | Cons |
| Provides services at zero cost. | Doesn't provide data visualization. |
| It's well-known and respected tool. | |
5. Recon-ng
Recon-ng is a free reconnaissance tool developed in Python. It is a command-line interface that can be run on Kali Linux. This OSINT tool enables you to gather data from publicly available resources. It helps a cyber security expert in scanning for vulnerabilities in web applications.
Recon-ng gathers information, aggregates it, and shows the result in easily discernible formats. This tool makes the task of collecting and analyzing data easy because of its built-in functions and modular framework. Even a person with limited experience can use the tool with relative ease.
Recon-ng provides more than 20 features, including analytics, automation, configuration persistence, shell commands, and database interactions. All in all, it is one of the best OSINT tools out there for reconnaissance.
| | |
| --- | --- |
| Pros | Cons |
| It is a free tool for reconnaissance. | It takes time to explore all the functions of the tool. |
| It features a modular design that's useful for functional integrations. | |
| This tool has automation scripting capabilities. | |
6. Metagoofil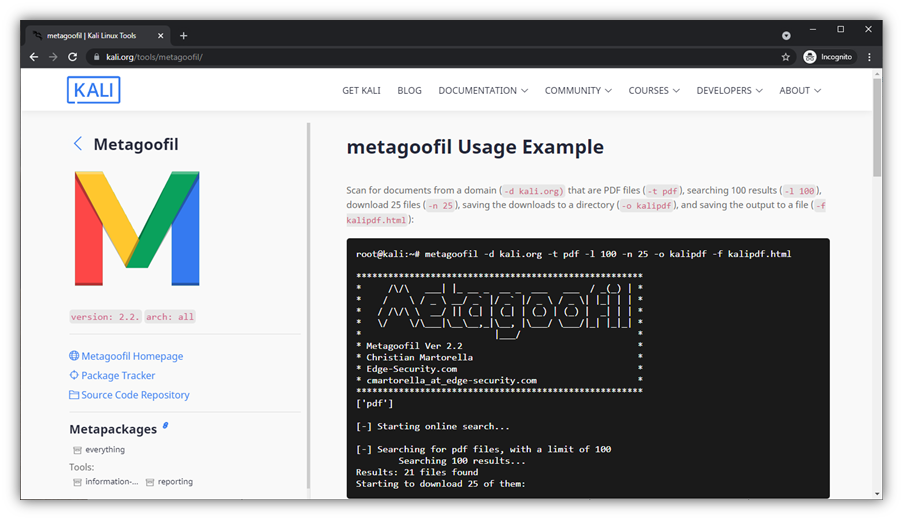 Metagoofil is one of the best open source intelligence tools used to extract metadata from all types of open sourced files, including .doc, .pdf, .xls, and .ppt. It is written in Python and runs on Linux. This free tool uses Google to find documents related to the search and downloads them on local drives. Although it used to extract all the metadata of the document in the past, it no longer does so.
Metagoofil can find usernames and passwords from the data collected, along with email addresses, software and versions, and file paths. Metagoofil can also extract the MAC address of devices from these files. The path information can also help to map the network of the target.
| | |
| --- | --- |
| Pros | Cons |
| It is a free tool that's available through GitHub. | It doesn't provide graphs and charts for better visualization of the results. |
| It can find sensitive information, including usernames, passwords, email addresses, and the hardware or software people use. | The information can be used for malicious purposes if the tool is used by hackers. |
| | This tool is difficult to use if you are a novice. |
7. Spyse
If you are a cyber security expert, you need tools fit for an expert. Just as a carpenter can't work without their tools, or a surgeon needs special tools to perform operations, a cyber security expert can't work with tools designed for novices. So, while the rest of us use Google to search the internet, security experts need something extra — enter: Spyse.
Spyse is a search engine developed especially for cyber security. Spyse returns results that include DNS CNAME and the SSL/TLS version used. It performs web spidering on the targeted domain to obtain additional information like HTTP headers, robots.txt, and links. A security expert can also check whether one or more domains are hosted on the same IP address.
Spyse also enables vulnerability assessments by comparing open ports with the common vulnerabilities and exposure (CVE) list. For cyber security experts, Spyse offers extensive information about the target that includes business details, location, ISP, and abuse reports along with the search. This helps you to reduce the number of searches needed.
The web interface feature helps you to organize all the data into tables. You can also adjust the values in the table by setting filters as per your requirements. Additionally, users can integrate the results into API services. Its advanced search and security scoring tools enhance the utility of the tool for professionals.
Good news? The community plan called Forever Free is free for all. So, you can register and begin using it right away. However, if your needs are greater, you can buy a plan starting from $49 and ranging up to $699.
| | |
| --- | --- |
| Pros | Cons |
| Basic version is free for anybody to use. | This tool is only for professionals only. |
| It is an indispensable tool for the cyber security experts. | |
8. TinEye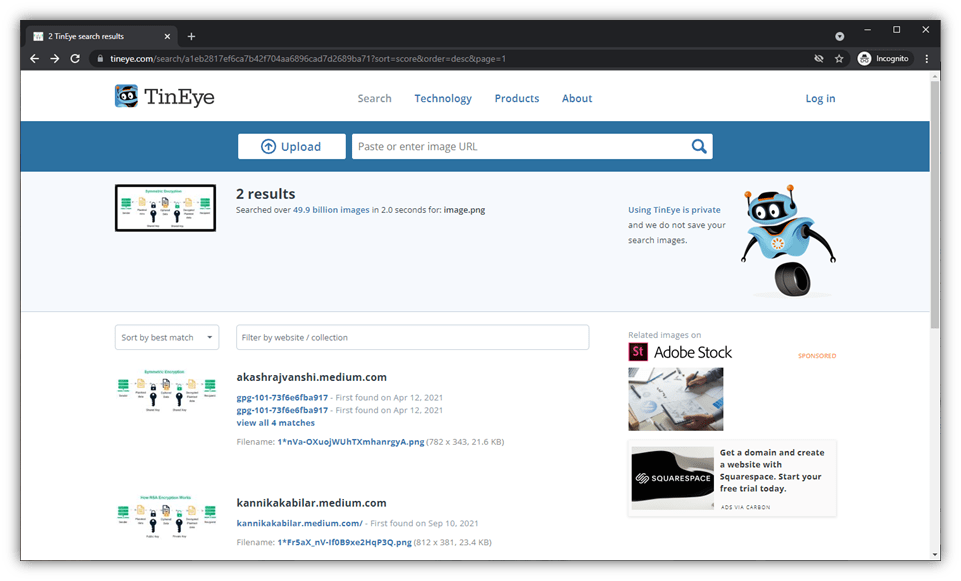 No one likes copyright infringement. TinEye is one of the most reliable reverse image search tools that can help you avoid such issues when it comes to images and other graphics. This tool helps cyber security personnel verify the proprietary rights images for content moderation and fraud detection.
Security personnel can build custom fraud detection and prevention solutions to identify images that have been submitted before, even if these images have been modified before submission. It can also keep an eye on your company-owned images and notify you if someone uses them without permission.
The tool supports images in any format, including JPEG, PNG, WebP, GIF, or TIFF.
The price of this tool varies as per the features you buy and the size of your enterprise – anywhere from $200 per month. If you are an enterprise customer, you can contact them for an estimate.
| | |
| --- | --- |
| Pros | Cons |
| It is a complete solution for searches related to images on the internet. | The tool is only used for image files and image file URLs. |
| Unique identification of your images is created and stored on the database. | There are no free versions of the tool. |
| All images, even if they are altered, resized, cropped, or Photoshopped, are recognized by the tool. | |
9. Recorded Future
Recorded Future is an AI-based tool to analyze data on a large scale and predict trends. It uses artificial intelligence (AI), machine learning (ML), and natural language processing (NLP). This tool has an intelligence graph at its core that was developed over a period of 10 years and is enhanced continuously.
The company's high-confidence Threat Intelligence module gives access to the company's repository for advanced threat research and reporting. It searches both the public web and dark web to give accurate results for the investigation. It offers advanced querying, alerting and visualization capabilities of the cyber threat landscape to predict potential cyber threat for the organization.
Besides this module, Recorded Future offers six other modules That, together, form a concrete base on which a cyber security expert can build an action plan to secure an organization. These other modules include:
SecOps Intelligence
Identity intelligence
Vulnerability Intelligence
Geopolitical intelligence
Brand intelligence
Third-party intelligence
| | |
| --- | --- |
| Pros | Cons |
| Provides graphical reports for a better understanding. | Pricing is not available freely. |
| It analyses a vast collection of data online and on the dark web. | You need to be quite a computer savvy to understand and utilize the tool entirely. |
| Allows customization for carrying out various functions. | |
10. OSINT Techniques
OSINT Techniques is an excellent collection of tools that can help you in different ways. If you're not sure which tool to use, just visit this website as it describes all of them, ordered according to their use case(s).
Suppose you are looking for searches on Facebook; you can get a list of tools that will help you.
Final Words on the Top 10 OSINT Tools For Cyber Security Pros
As a cyber security expert, you can't lower your guard at any given time as the responsibility of securing your organization rests on your shoulders. Using open source intelligence (OSINT tools) makes the job manageable; without them, you might not be able to spot potential cyber threats in time.
In this article, we've highlighted some of the best tools available. Now, you just need to choose the tools that suit your needs and your pocket.