21 Powerful Ecommerce Statistics That Every Entrepreneur Must Know
Do you know 81% of people trust the advice of friends and family more than any paid or sponsored advertisements? Explore this and other ecommerce statistics to make efficient marketing strategies
If you're a marketer, an entrepreneur, or someone who's considering opening an online store in the near future, then this list of ecommerce statistics should pique your interest.
Collecting statistical data is a daunting process because there are thousands of parameters, and each business has its own different segments, geographical cluster, niche, and customer demographics. So, there is no one-size-fits-all data set.
But there are some online shopping statistics that provide insights into consumers' contemporary mindsets, buying habits, trends, and latest technological factors. This list of ecommerce statistics also aims to help you evaluate your marketing efforts and underscores the importance of cybersecurity for ecommerce.
So, let's get right to it.
21 Ecommerce & Online Shopping Statistics That Can Improve Your Business
In this article, we'll go over 21 insightful ecommerce statistics that can help you to understand a variety of factors, including:
The market size,
Factors that motivate or discourage people from buying, and
The role ecommerce security plays in the business.
We've organized the online shopping statics into a set of categories. This way, it'll be easier for you to navigate the article.
Online Shopping Statistics: A Look at the Overall Economy
1. Statista estimates that the number of online shoppers will reach 2.14 billion by 2021. That's more than 25% of the world's current total population! Right now, particularly amidst the COVID-19 crisis, the total number of people who will be shopping online in 2020 are hard to predict, but in 2019, this ecommerce statistic was 1.92 billion. So, if you look at the larger picture, one out of four people shop online at least once in a given year! That's the large pool of people to draw business from.
2. In 2019, retail ecommerce sales of physical goods were $365.2 billion in the U.S. alone. These numbers are projected to reach nearly $599.2 billion in the year 2024.
3. According to Adobe's April 2020 Digital Economy Index, the U.S. ecommerce daily sales increased by 49% in April 2020. The top three categories of growth are as follows:
| | |
| --- | --- |
| Category | Increase in sales |
| Daily books | 100% |
| Daily online grocery | 110% |
| Electronics | 58% |
Major Takeaway from the Economy's Ecommerce Statistics
If you have a brick and mortar store, it's high time for you to have an online presence to showcase and sell your inventory to the digital buyers. We're not saying that brick and mortar stores are reaching a dead end. But having the co-existence of an online and offline presence is a must, particularly in a post-COVID world. Otherwise, you risk losing one-quarter of your customer base!
Online Shopping Statistics: The Motivating Factors for Online Shopping
When nearly 25% of the world population is buying online, the next question is this: what motivates them to do so?
4. According to KPMG'S research, more than half (58%) of survey respondents said that the most important factor in their decision is having the ability to shop 24/7. This means that convenience is the biggest driving factor for them to shift online.
But that's not the only reason. Three of the other reasons include:
Price comparisons (54%)
Online sale/discounts (46%)
Time savings (40%)
Shipping Also Matters
Many entrepreneurs make the mistake of ignoring shipping costs while they make a strategic allocation of the funds, thinking that "buyer will bear the shipping cost." That's the grave mistake. Amazon spent $37.9 billion on shipping in 2019 alone!
If you think you have a just small-scale business and Amazon (or similar ecommerce platforms such as eBay, Walmart, etc.) is not a competitor, think again! If the products you're selling (or similar alternatives) are available on Amazon, you're technically competing against Amazon. So, shipping must be your priority. As shown by the "What Online Shoppers Want" survey, shipping is one of customers' top concerns when shopping online.
Here are a few other ecommerce statistics that provide additional insights on the importance of shipping considerations:
5. Data from Walker Sands' The Future of Retail 2019 report shows that free shipping is the most influencing factors for 77% of users when they decide whether to buy from a particular ecommerce platform. This is followed by fast shipping as the second most important factor. (No wonder Amazon Prime's free two days shipping is so effective at catering to this mindset!)
6. According to Statista, 63% of the survey participants reported that they abandon the shopping cart after discovering the higher shipping rates.
7. The practice of "Buy Online, Pick Up in Store," commonly known as BOPIS, demonstrated a year-over-year (YoY) growth rate of 208% in April 2020, according to Adobe's April 2020 Digital Economy Index.
Major Takeaways from Motivational Factors and Shipping-Related Ecommerce Statistics
To ensure that your website functions 24/7. To aid this effort, make sure that you have the network and server cybersecurity mechanisms in place to protect your site from DDoS attacks.
Provide live 24/7 support (chat or phone). This enables customers to resolve their concerns or issues immediately.
Offer product comparison tools and content. This can include blog posts comparing various products, their features, and prices.
Have discount coupons and deals exclusively for online buyers. List the coupons on online discount platforms like Retailmenot, Groupons, etc. Customers feel a sense of achievement when they find good coupons on such platforms.
Plan to offer free shipping. While setting up the price of the product, adjust it in a way that enables you to offer free shipping. Have strategic planning to reduce shipping and packing costs.
Identify your free shipping threshold. This will encourage your buyers to add more items in the cart to get the benefit of free shipping.
Spread out. Study your previous orders' shipping locations and store your inventory in multiple geographic locations to reduce the transportation cost in the long run.
Use BOPIS to your advantage. If you're facing a shortage of delivery persons or if the profit margin is too small to offer the delivery, offer BOPIS so that people can buy online on your website and pick up their items at your brick-and-mortar location.
Online Shopping Statistics: Returns Statistics
If you focus all of your efforts on increasing sales and don't bother with returns, the following statistics might be an eye-opener for you.
8. Invespcro reports that 30% of all items ordered online get returned! So, regardless of how you feel about returns, it's important that you make it a key consideration when listing your products.
9. 48% of respondents to Walker Sands' The Future of Retail 2019 survey indicate that having the ability to perform free returns or exchanges is a key factor in their decision to shop online. 39% say the same about easier online returns.
10. According to Narvar, 96% of buyers will buy again from the same platform only if their previous returns were hassle free. Hence, if you don't have a convenient return policy, your business will be in jeopardy in the long run.
11. Statista estimates that return delivery costs for U.S companies will reach $550 billion this year. These costs have been increasing over the past several years and, if the trend continues, it's likely that they'll continue to do so.
Major Takeaways from Return Ecommerce Statistics
Be accurate in describing product features, size, usage instructions, and other details. This will likely help to reduce the number of returns you'll experience. Don't exaggerate the features to increase customers' expectations if the product can't deliver the same.
Don't have an ambiguous return policy. For example, some sellers mention that product must be unopened and unused to qualify for the return. But for many types of products, only after opening and using it, the customer can decide whether it is of proper size (clothing, footwear, etc.) or malfunctioning (electronics).
Have a separate budget to handle returns, replacements, and refunds. If a customer is returning a product, take their feedback seriously, investigate the matter, and make the required changes in production, packing, or product descriptions immediately to reduce returns in the future.
Online Shopping Statistics: The Importance of Gaining Customer Trust
It's general tendency for businesses to spend heavily on various paid marketing campaigns and sponsored advertisements. Ads are, indeed, necessary for letting people know about your products and to help generate leads. But a crucial step to convert the lead into the actual sales is helping people feel more comfortable working with your company and gaining trust in your products and services.
Nowadays, people are smart enough to understand what to trust and you're quick to lose that trust if you do something that undermines it.
12. According to HubSpot, people rely more of the advice of family members and friends than on companies' sponsored ads.
| | |
| --- | --- |
| Trust friends and family's advice | 81% |
| Don't trust sponsored ads on social media | 71% |
| Don't trust business advertisements | 69% |
| Don't trust company press release | 65% |
13. According to Nielson's 2018 Global Connected Commerce report, 48% of people read or watch written and video online reviews before making a purchase decision. What it means is that the advertisements might bring you sales in the short run, but for sustaining in the market for the long term, only positive word of mouth publicity is going to be a determinant factor.
Major Takeaways from Customers' Trust Related Ecommerce Statistics
Focus highly on customer satisfaction and customer delight. Encourage users to leave feedback and reviews about their products and their shopping experiences. This enables you to gain valuable word-of-mouth publicity.
Retrain yourself from deleting negative reviews. If someone posts anything negative, reply to them with regret and offer a solution such as full refund, free returns, replacements, coupons for next purchase, extra perks, etc. By doing so, the other potential customers will get an idea of how you handle the conflicts. They will also be able to consider other positive reviews to be genuine and trust them.
Respond to feedback. Take their feedback, complaints, and queries seriously and use that information to improve your products and services.
Online Shopping Statistics: The Role of Gender in Ecommerce
When you sell products targeting a specific gender, you must know how the buying behavior and habits differ for each gender.
14. According to BELVG's survey, women do more online shipping than men. Out of all the survey participants, 72% of women and 68% men reported that they buy online on a regular basis. The difference is not that huge, but their buying habits are different.
Survey results indicate that women tend to make more impulsive and spontaneous purchases, while men make more logical purchases.
Men's purchase decisions are based on features of the products while women make a buying decision based on reviews, ratings, and others' opinions.
15. In the same BELVG survey, it was found out that women (74%) respond more to advertisements, special offers or sales promotions than men (57%).
16. While men tend to buy more electronics (39%), while women tend to buy more clothing and sports-related items (46%). See the below infographic to understand more about the buying tendencies of both the genders.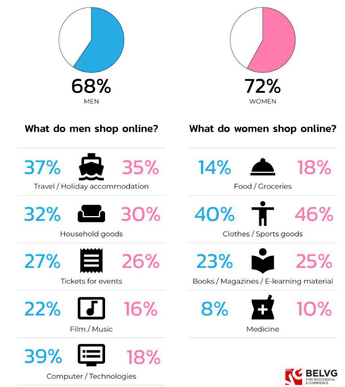 Image Courtesy: BELVG.com
Major Takeaways from Gender Dynamics Ecommerce Statistics
Offers sales and promotions to attract customers. Have big deals, discounts, sale seasons, coupons, etc. for all the products made for, used by, and/or purchased by women to trigger the sales.
Consider product comparisons an essential feature. Focus heavily on the features' comparison, benefits, usage instructions, product descriptions, etc. for the products made for men or generally purchased by men.
Encourage users to leave reviews to expand your influencer marketing initiatives. Inspire your buyers to share reviews of the products made for women. Influencer marketing works best for such products.
Online Shopping Statistics: How Mobile Is Changing Ecommerce
Mobile retail, which is known as m-commerce, is a growing area as more users are using their smartphones to shop. This shift plays an important role in the overall ecommerce sales.
17. According to Statista's estimate, 53.9% of total retail e-commerce sales will be generated on mobile devices by the year 2021.
18. Results from a Google study indicate that 53% of mobile users will abandon a website if it takes more than three seconds to load. This demonstrates the importance of page load speed and how it can affect both your users' experiences and your organization's overall revenue.
Major Takeaway from M-commerce's Statistics
Needless to say, your ecommerce platform must be responsive (i.e., mobile-friendly) to keep users engaged and on your site. But's it's not enough. Your site pages also must be quick to load.
There are some simple, yet powerful tricks you can apply to improve the speed of your ecommerce store, such as:
Re-optimizing images,
Putting JavaScript on the bottom and CSS on top,
Getting dedicated servers instead of shared hosting, and
Minifying CSS, JavaScript, and other codes.
Online Shopping Statistics: The Role of Ecommerce Security
Ecommerce platforms obviously need to deal with customers' payment card numbers, bank account details, personally identifiable information (PII) such as a physical address, email address, phone numbers, etc. That's why these platforms are frequently the targets of hackers and other cybercriminals.
The next three statistics are derived from Magnet's eCommerce Cybercrime Report underscore the importance of cybersecurity initiatives for ecommerce businesses.
19. 32.4% of total cyberattacks (i.e., almost one-third of the cyber-attacks), are executed against the ecommerce industry.
20. 29% of web traffic on ecommerce websites comes from malicious users who intend to execute some type of cyber-attack.
21. 92.4% malware transfer is done using the email address you provide on your website for sales inquiry or customer support.
Major Takeaway from Online Store Security's Ecommerce Statistics
Use an SSL/TLS certificate: Protect customers' personal and financial information by using SSL/TLS certificate to ensure their information transmits via a secure, encrypted connection. It costs as low as $8.78/year.
Use DDoS protection solutions: DDoS protection is necessary to make sure your website is working and available to the users all the time.
Use email signing certificates: Equip your emails with S/MIME certificates to reduce the incidents of business email compromise (BEC)/email account compromise (EAC) scams.
Provide cybersecurity training to employees: Train your employees to recognize phishing emails, SMS spoofing, whaling attacks, etc. One of the best free training sources is DoD cyber awareness challenge.
Beware of unsolicited emails: Don't open attachments, enable macros, or click on links before carefully reviewing the received emails.
Use file integrity monitoring (FIM) software: FIM is needed to detect the unauthorized changes in the files, codes, security settings, and server configuration. It detects the cyber-attacks and insider threats at their earliest stages.
Wrapping Up the Topic of Ecommerce Statistics and Ecommerce Security
Having an ecommerce store is a challenging yet inevitable step to capture the optimum market. When a business is new and has a limited budget, prioritizing the tasks and allocating the resourcing play a crucial role in the success. Ecommerce statistics always help in such a decision-making process.
Some of the key takeaways from this article are:
The ability to shop 24/7, and the options of free shipping, and free and hassle-free returns are major motivating factors for customers to engage in ecommerce.
Word of mouth publicity (compare to paid advertisements) and reviews matter and are worth the effort.
When you are making gender-specific products, you must make the marketing campaign taking into consideration the different factors that trigger sales in both the genders.
And, last but not least, cybersecurity in ecommerce must never be taken lightly. From day one, equip yourself with all the tools needed to build a robust security posture.