News: Comodo Secure Site Seal is Rebranded as Sectigo Secure Site Seal Now
What is The Comodo Secure Site Seal?
A trust seal or secure site seal is a small image placed on a webpage which works as a visual indicator of a well-protected site. The Comodo site seal is also known as Trust seal, Comodo secure badge, Comodo secure seal, and Trust Logo. A Comodo secure site seal indicates that your domain is properly vetted by Comodo and any data transmitted over the website will be encrypted and be secured by a Comodo SSL certificate. Site seals help you gain your customers' trust and boost up conversions.
When you buy an SSL certificate from Comodo CA (now Sectigo), you will get a FREE secure site seal, which you are recommended to place on your website in a prominent location, such as:
Home page
Footer
Check out page
Forms/login pages
The site seal designs vary based on the type of SSL certificate you buy. Comodo (Sectigo) also has well-reputed sub-brands that offer attractive trust logos for free. The Comodo secure badge for sub-brands look something like below.



Why Am I Getting a Sectigo Site Seal Instead of Comodo?
In 2017, Comodo Certificate Authority (CA) was acquired by Francisco Partners and in October 2018, Comodo CA re-branded with a new name: Sectigo. So now Comodo CA = Sectigo. What this means is all Comodo digital certificates are now issued and sold with their new name, Sectigo SSL. Site seals have also changed to reflect the new brand name Sectigo. All the sub-brands Positive SSL, Essential SSL, Enterprise SSL, and Instant SSL are still available, and they also have new site seals.
How Does the Brand Transition from Comodo CA to Sectigo Affect Users?
As far as encryption strength, issuance and renewal process, server licenses, price, and other SSL certificate features are concerned, there aren't any changes. There are some changes in how the trust seals, SSL certificate, and root certificate appear, reflecting the new brand.
When someone clicks on the padlock sign in the address bar and sees the certificate, they will see 'Sectigo' instead of 'Comodo' as the main root certificate authority.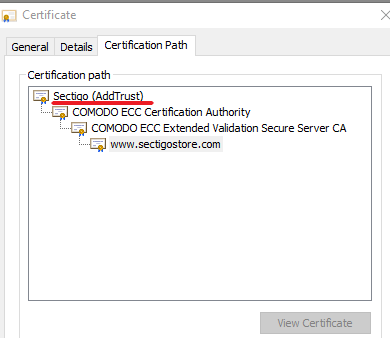 The changes in site seals are as below.

The site seals for sub-brands Positive SSL, Essential SSL, Enterprise SSL, and Instant SSL also have improved with eye-catching designs.
When someone clicks on the dynamic trust logo, it will show the new brand name 'Sectigo' as the certificate issuance authority.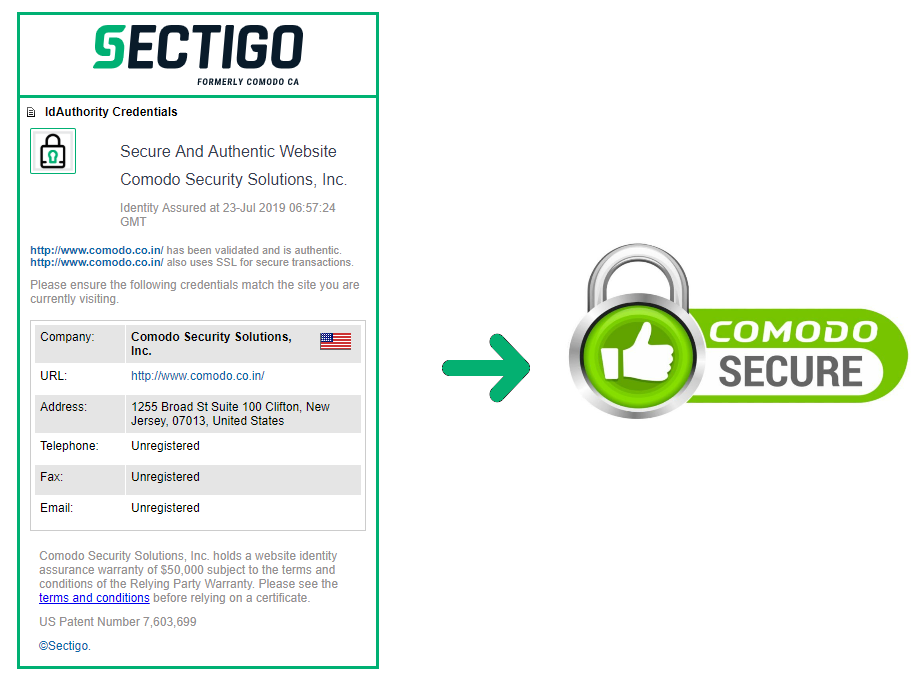 As you can see above for Comodo.com, when you click on the site seal the certificate details start with the new brand name Sectigo.
Types of Secure Seals
There are two types of trust logos available:
Static: This is a non-clickable site seal, that shows that your website ownership is vetted, and the website is encrypted by Comodo.
Dynamic: Dynamic site seals are clickable trust logos. When your users click on the site seal, it shows all the available details of the website. Business's name, physical address, certificate issuer, warranty covered by the CA, email address, and the flag of the country where the domain is registered. (Not all of these details are displayed, but the CA tries to show as many details as possible).
Sectigo provides complimentary dynamic-clickable site seals for all types of SSL certificates, including domain validated (DV) certificates!
How to Install a Sectigo (Previously Comodo CA) Trust Seal?
Buy the latest SSL/TLS certificate.
Complete the verification and installation process.
Download the site seal from trustlogo.com. For some SSL certificates, you will get site seal in your email too. For EV/OV SSL you need to submit a form to get the site seal.
Edit your HTML file. Decide where you want to show the site seal and add the following code for static site seals.
Customer Trust is Everything
The most fundamental requirement of any website is making its customers feel safe and secure while they are interacting with your website. People have become suspicious these days when it comes to sharing any personal information online. But not all are tech savvy. Many people are still not aware that HTTPS and a padlock sign in the address bar are the sign of encryption and security. For those people, site seals work as a visual indicator of trust when they are placed in the right place on the website such as on footer, forms, login pages, and on checkout pages. A trust logo firmly vouches for your site's security. When it comes from a well-reputed brand like Sectigo (previously Comodo CA), which is the number one brand in the cybersecurity industry for two decades, the trust logo will prove to be a great asset for your website and business.
Secure a Website with Sectigo SSL Certificate – Save 79%
Save 79% on a highly trusted Positive SSL, an ideal solution for small business websites. It includes unlimited server licenses, reissuances, 256-bit encryption, and more.