Your step-by-step guide to the email signing certificate renewal process
Email signing certificates, personal authentication certificates, personal ID certificates, and S/MIME certificates. Regardless of what you call them, renewing an email signing certificate is a quick and straightforward process.
If you bought your email signing certificate from SectigoStore, you'll get renewal reminders a month before the certificate's expiry date. You'll just need to click on the link provided in the email and follow the instructed steps.
If you have any other brands' email signing certificate, you can change your certificate authority (CA) anytime. If you have Comodo CA email signing certificate, we will consider you our (Sectigo's) existing customer. We will renew your Comodo email signing certificate with a brand new Sectigo. With Sectigo (formerly Comodo CA), you will get best-discounted rates, 24/7/365 live customer support and a 30-day money-back guarantee. Plus, the brand name and security assurance from the world's biggest certificate authority Sectigo.
Mail Certificate Expired
Your mail certificate expired? No, big deal. It is very simple to follow the instructions given in this article to renew your expired mail certificate.
Email Signing Certificate Renewal: A Step by Step Guide.
Step 1: Go to SectigoStore.com
Step 2: Click on Email & ID from the top menu bar.
Step 3: Select Email Signing Certificate from the drop-down menu.

Step 4: Select the time duration for which you need to renew. One-, two-, and three-year options are available.
Step 5: Click Renew Now instead of Add to Cart. '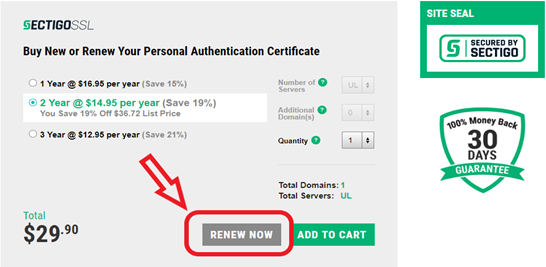 Step 6: Fill out the form, make the payment, and place an order.
Once you place an order, you'll get an email from Sectigo that contains links and instructions for the validation and installation process.
You can check our easy-to-follow guide to get an overview of the certificate signing request (CSR) generation, validation, collection, and installation processes for your Sectigo S/MIME email signing certificate.
What Happens If My Email Signing Certificate Expires Before I Renew It?
Once the email singing certificate expires, you won't be able to digitally sign or send encrypted emails. What's worse is that all the emails you previously encrypted and signed will display a warning message indicating, "There is a problem with this digital certificate." (Note: Your recipients will be able to read the previously sent emails, though).
Furthermore, some email servers would also show a warning message in the red line on the top or bottom of the email. If you use email to send confidential business information, conduct transactions or marketing outreach, such security warnings can affect the trustworthiness of your emails. Plus, the confidential data you transfer via emails would be vulnerable to data theft. That's why it's vital to renew your email signing certificate at least a month before it's set to expire.
Why Do Email Signing Certificates Expire?
As you know, it is the certificate authority's responsibility to validate the applicant's identity before issuing an email signing certificate. What if a business shuts down? What if the domain name and business email IDs are sold or transferred to the wrong person? Imagine how easy it would be for the new owner to send phishing emails or distribute viruses in emails using an original email signing certificate! Recipients will easily trust such "authentic" emails and won't hesitate to click on anything the email is containing. This would not only spread the malware with ease but also damage the certificate authority's reputation up to a great extent.
This is why certificate authorities like Sectigo require you to go through the validation process every year — it's to ensure that the email IDs are still owned and used by the same person/organization as they claim to be!
Best Deal: Renew Email Signing Certificate-Save 21%
Assert Sender Identity, Ensure Message Integrity, Stop Spoofing and Get Eligibility to Set up DMARC with Sectigo Email Signing Certificate