How to install Sectigo SSL certificate on HostGator server
An SSL certificate is a fundamental requirement to strengthen your website's security posture. If you have a HostGator hosting plan, you have three options to get an SSL certificate:
Get a free basic SSL certificate, which is offered by HostGator with its hosting plans.
Get a top-notch Comodo (now Sectigo) brand premium SSL certificate from HostGator at an extra cost.
Get the same Sectigo premium SSL certificate from a third-party vendor at a discount.
Note: Premium SSL certificates come with site seals (TrustLogo) and warranties.
No matter which brand of SSL certificate you use, the installation steps are going to be the same. In this article, we have covered steps for how to install Sectigo SSL on HostGator.
8 Steps to Install Sectigo SSL on HostGator
Step 1: Complete the CSR
Fill out this certificate signing request (CSR) form.
Step 2: Retrieve Your Public and Private Keys
HostGator will send you a CSR code (public key) and RSA key (private key) in an email after you fill out the form above.
Step 3: Send the CSR
Send the CSR code to the issuing certificate authority (CA). SectigoStore representatives would guide you through this entire process if you bought your SSL certificate from us.
Step 4: Undergo the Validation Process
Complete the validation process that's required for your specific SSL certificate. There are three types of validation. Domain validation (DV), organization validation (OV), and extended validation (EV).
Domain validation is quick, automated, and can be completed in minutes. All the free SSLs are DV SSLs. Organization validation and extended validation are exclusively available with paid SSL certificates.
All reputed websites use OV or EV SSL certificates. It takes one to five days to complete the validation process. The CA verifies the organizations' registration details, physical address, and phone number.
Step 5: Receive the SSL Certificate's Files
Once you complete the validation process, Sectigo CA will issue an SSL certificate for your domain. You'll receive the SSL certificate in the yourdomain.crt file along with CA bundle (known as an SSL/CA certificate or a chain of intermediate certificates) via email.
Step 6: Send a Request for Certificate Installation
If you have any of the below web hosting plans, you must fill out this form and let HostGator install the SSL certificate for you at an additional cost.
Shared Web Hosting Plans: Hatchling Plan, Baby Plan, or Business Plan
Website Builder: Starter, Premium, or eCommerce
WordPress Hosting: Starter Plan, Standard Plan, or Business Plan
Virtual Private Server (VPS) or Dedicated Server Users: HostGator offers free third-party SSL installation. Alternatively, you are allowed to install the SSL certificate yourself.
If you're a reseller, you can't install a third-party SSL certificate on your client's server. You must let HostGator install the SSL certificates for you (again, for an additional fee). The HostGator fee structure is as follows:

$10 installation charges for a single-domain SSL certificate.

$25 for multidomain and wildcard SSL certificates for up to five domains (plus $5 for each additional domain).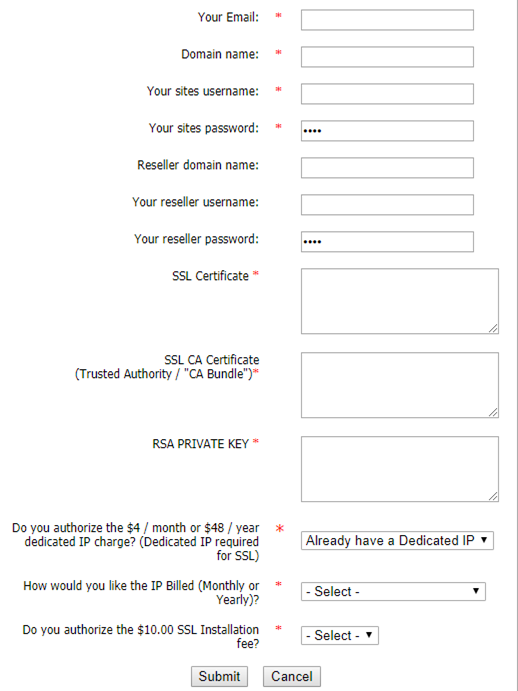 Instructions for filling out the installation request form.
SSL Certificate: Copy-paste contents you have received from Sectigo in yourdomain.crt file. Be sure to include the entire certificate (including the "—–BEGIN CERTIFICATE—–" and "—–END CERTIFICATE—–" lines).
SSL CA certificate: Copy and paste the codes you have received in your CA bundle (in step 5) from Sectigo. If you haven't received a CA bundle, you can get it here.
RSA Private key: Copy-paste the entire codes of RSA key (private key), which you have received from HostGator in step 2.
===Follow the steps below only if you're using VPS or a dedicated server and want to install an SSL yourself (manually) =====
Step 7: Locate Installation Form in cPanel
Go to cPanel. Locate SSL/TSL under Security.

Click on Manage SSL Sites under Install and Manage SSL for your site (HTTPS).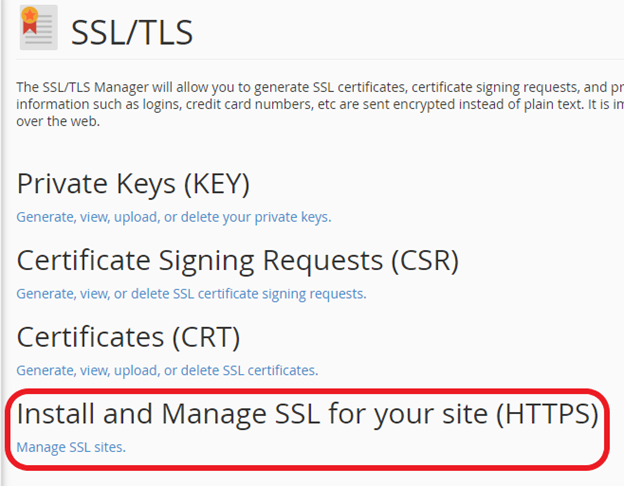 Step 8: Fill out the SSL Installation Form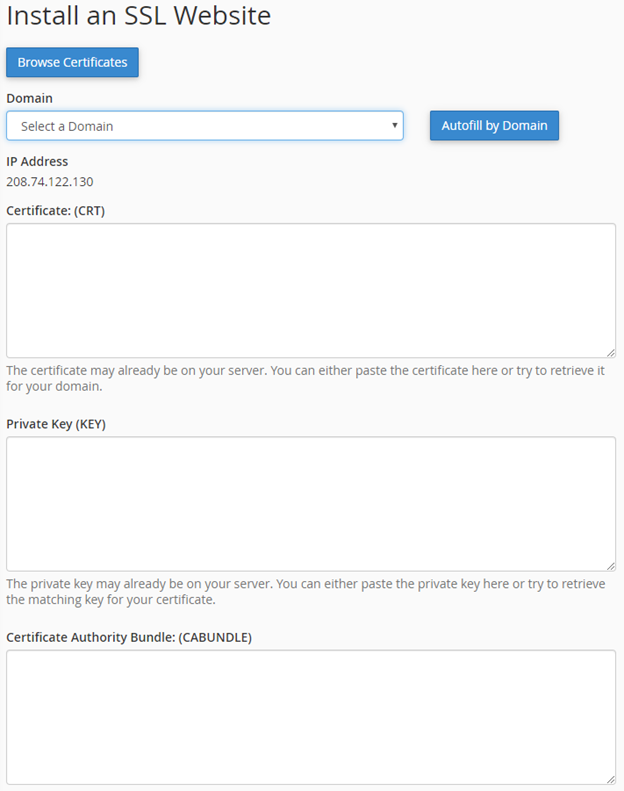 Select the domain for which the SSL certificate has been issued from the drop-down menu.
The server will fetch and autofill the Certificate: (CRT) and Private Key (KEY) fields. If it doesn't, get CRT codes from yourdomain.crt file (refer to step 5). Private keys are the RSA keys that you received via email from HostGator in step 2.
In the Certificate Authority Bundle (CABUNDLE) field, copy-and-paste the contents of the CA Bundle file that you received from Sectigo CA (in step 5).
Click Install Certificate.
You're done! Congratulations. You've successfully installed the Sectigo SSL certificate on the HostGator server.
SSL Certificate Price Comparison
As we mentioned above, although HostGator offers commercial SSL certificates from Comodo CA (powered by Sectigo), you can get the same commercial SSL certificates at much lower prices from third-party platforms like SectigoStore.com. You can install these certificates on HostGator servers without any issues.
If you haven't purchased your SSL certificate already, we strongly recommend that you check out the price differences before making a purchase decision.
| | | |
| --- | --- | --- |
| SSL Certificate Types | HostGator | SectigoStore.com |
| Positive SSL (DV) | $19.99/first year Renewal: $39.99/year Warranty: $10,000 | $9.98/year Renewal: $9.98/year Warranty: $50,000 |
| PositiveSSL Multi Domain SSL (DV) | $79/year $151.98/ Two years $25/year for each additional domain Warranty: $10,000 | $29/year $58/Two years $8.66/year for each additional domain Warranty: $50,000 |
| Positive Wildcard SSL (DV) | $119.99/year Warranty: $10,000 | $85.66/year Warranty: $50,000 |
| Extended Validation (EV) SSL | $269.99/year Warranty: $1,750,000 | $88/year Warranty: $1,000,000 |