The rise of ecommerce and the shift towards an online marketplace necessitated having a secure channel via which sensitive information could be transmitted. SSL/TLS certificates fulfilled this demand by connecting websites over HTTPS and providing a secure, encrypted communication channel between clients and servers. Initially, the only SSL certificates available were organization validated (OV) certificates because they were mostly used by corporations to secure their business transactions. Now, of course, we have several different types of SSL certificates that vary by functionality and validation levels, including SNI and dedicated IP SSLs.
Secure Up to 250 Multiple Domains with One Multi Domain SSL – Save 50%
Save 50% on Sectigo Multi Domain SSL Certificates. It includes unlimited server licenses, reissuances, 256-bit encryption, and more.
In simple words, Server Name Indication (SNI) is an addition to the TLS encryption protocol that binds a website hosted on a shared server with its associated SSL certificate using its hostname. IP SSL, on the other hand, binds an SSL certificate to the account with a unique IP address. Before looking at SNI SSL vs IP SSL in terms of a comparative study, let's get a better understanding of these two terms.

SNI SSL vs IP SSL: A Quick Overview
IP-based SSL certificates use the dedicated public IP address of the server on which the website is hosted to map the certificate to the site. In addition to the problem of only a limited number of IPv4 addresses being available, this approach can be expensive — especially when you have multiple websites. (Since webhosts charge a fee for each dedicated IP address.)
SNI, an extension to the TLS protocol, allows each domain or website hosted on a shared server under a single IP to be mapped to a separate security certificate. During the TLS handshake, the client hello uses the SNI field to specify the hostname to which it is attempting to connect. The server parses this request and sends back the relevant certificate to complete the encrypted connection.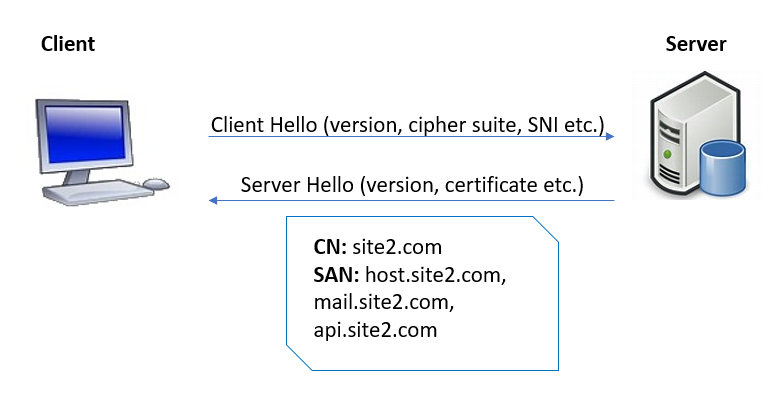 Consider the following example:
Bob wants to host more than one site on a virtual server. So fundamentally, one IP address is shared between multiple websites with different hostnames. Bob understands that the server needs to know which of these sites the client wants to connect to and must be able to send out the corresponding certificate. If the server issues the wrong certificate, the client's connection will fail to establish. This adversely affects his business when customers can't connect.
Luckily for Bob, SNI allows clients to communicate with the specified hostname on the shared server. So, what does Bob do? He opts for an SNI SSL solution, where the client can tell the server exactly which certificate it's requesting by referencing its hostname during the TLS handshake.
In contrast, an IP SSL certificate secures the connection based on a unique IP address.

SNI SSL vs IP SSL: Difference Between the Two
The table below makes a quick comparison between IP SSL vs SNI SSL:
IP SSL Certificates
SNI SSL Certificates
IP SSL certificates are associated with unique IP addresses.
SNI SSL certificates are associated with hostnames.
IP SSL certificates can be used on shared servers only if a dedicated IP address is assigned to the website.
SNI SSL certificates can be used with both dedicated as well as shared servers.
An IP SSL certificate is the traditional method of facilitating an encrypted connection and can be used on older systems that do not support SNI.
SNI may not be compatible with older legacy browsers or systems. Browsers compatible with SNI (earliest version) include:

IE 7 +
Chrome 5.0.342.1 +
Mozilla Firefox 2.0 +
Opera 8.0 +
Safari 3.0 +
Top Multi-Domain SSL with SNI Support
| Features | PositiveSSL Multi-Domain (DV) | Sectigo OV Multi-Domain SSL Certificate | Sectigo Multi-Domain/UCC SSL Certificate |
| --- | --- | --- | --- |
| Lowest Price | $25.60/yr | $140.00/yr | $127.20/yr |
| Domains Secured | Up to 250 Multiple Domains | Up to 250 Multiple Domains | Up to 250 Multiple Domains |
| Validation Level | Domain Validation | Organization Validation | Domain Validation |
| SSL Encryption | up to 256-bit | up to 256-bit | up to 256-bit |
| Key Length | 2048 bits | 2048 bits | 2048 bits |
| Server License/td> | Unlimited | Unlimited | Unlimited |
| SSL Site Seal | Included | Included | Included |
| Reissue Policy | Unlimited | Unlimited | Unlimited |
| Warranty | $50,000 | $1,000,000 | $500,000 |
| Refund Policy | 30 Days | 30 Days | 30 Days |
| SAN / UCC Support | Yes | Yes | Yes |
| Browser Support | 99% | 99% | 99% |
| OS Support [Desktop] | Yes | Yes | Yes |
| OS Support [Mobile] | Yes | Yes | Yes |
| Buy Now | View Product | View Product | View Product |