If you're here because you're wondering "what is a multi domain SSL certificate?" or "what is a UC multi domain certificate?" then you've come to the right place. A multi domain SSL certificate is also known as a subject alternative name (SAN) or unified communication certificate (UCC). As the name suggests, it's used to secure multiple domains with a single certificate. Considering that many businesses have multiple domains, it makes sense to have a solution for business owners who have multiple websites. Would you rather manage multiple certificates for all your sites? Remember that it would involve installing each of them separately, keeping track of when to renew them, filling out individual certificate signing requests (CSR), etc.
This can be tedious. If you have numerous websites, wouldn't it be more effective to manage and maintain all of them using one certificate? This is where multi domain UCC (SAN) SSL certificates can come in handy.
What Is a Multi Domain SSL Certificate & How Does It Work?
A multi domain SSL certificate is a single certificate that covers multiple domains on a single IP. When it comes to the strength of encryption, a SAN or a UCC multi domain certificate uses the same encryption standards as the rest of the solutions offered by any trusted third-party certificate authority (CA). The difference lies in the SAN extension that's used to specify the additional domains.
The base domain gets listed as the common name. It's supported on 99.9% of all web browsers and available for every level of validation — domain validation (DV), organization validation (OV), and extended validation (EV). SAN SSL certificates can secure up to 250 domains, subdomains, external IP addresses or hostnames on a single certificate. Larger certificates, with more SANs listed, might affect page load speeds by a few milliseconds.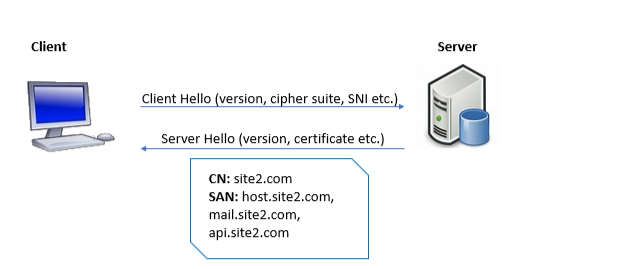 Consider the following example:
A businessman named Todd has the following four sites that he wants to manage with one certificate:
site1.com
site2.com
site3.com
blog.site3.com
These domains and subdomains will get listed in the SAN fields with one of them, let's suppose site1.com, as the common name under the CNAME field. Now, remember that these domains mentioned on the same certificate will be visible to everyone visiting your sites. If multi domain certificates are shared between organizations, the CA will not issue OV and EV certificates for them.
Secure Up to 250 Multiple Domains with One Multi Domain SSL – Save 50%
Save 50% on Sectigo Multi Domain SSL Certificates. It includes unlimited server licenses, reissuances, 256-bit encryption, and more.
Benefits of Using a SAN SSL Certificate
We're pretty sure we've answered your questions about "what is a multi domain SSL?" and "what is a SAN SSL certificate?" Now that we've got all of that covered, let's look at some of the benefits a multi domain certificate offers!
Using a SAN SSL certificate reduces administrative and deployment costs; it also simplifies certificate management.
Securing various environments such as Microsoft Exchange Servers, mobile device manager and web environments improves flexibility.
Multi domain SSLs decreases the IT management complexity by providing single certificate support for a host of domains
UCC multi domain certificates can be used on as many servers, IP addresses, and domains as required.
SAN SSL certificates incorporate the highest standards in SSL technology — 256-bit encryption with a 2048-bit RSA Signature Key
Trusted by almost all browsers, multi domain SSL certificates also have wide-reaching mobile browser support.
Most CAs provide warranty to cover damages depending on the level of validation you choose, just in case there is ever a problem on the CA's end, your website remains insured.
Best Multi-Domain SSL Certificates of 2020
| Features | PositiveSSL Multi-Domain (DV) | Sectigo OV Multi-Domain SSL Certificate | Sectigo Multi-Domain/UCC SSL Certificate |
| --- | --- | --- | --- |
| Lowest Price | $25.60/yr | $140.00/yr | $127.20/yr |
| Domains Secured | Up to 250 Multiple Domains | Up to 250 Multiple Domains | Up to 250 Multiple Domains |
| Validation Level | Domain Validation | Organization Validation | Domain Validation |
| SSL Encryption | up to 256-bit | up to 256-bit | up to 256-bit |
| Key Length | 2048 bits | 2048 bits | 2048 bits |
| Server License/td> | Unlimited | Unlimited | Unlimited |
| SSL Site Seal | Included | Included | Included |
| Reissue Policy | Unlimited | Unlimited | Unlimited |
| Warranty | $50,000 | $1,000,000 | $500,000 |
| Refund Policy | 30 Days | 30 Days | 30 Days |
| SAN / UCC Support | Yes | Yes | Yes |
| Browser Support | 99% | 99% | 99% |
| OS Support [Desktop] | Yes | Yes | Yes |
| OS Support [Mobile] | Yes | Yes | Yes |
| Buy Now | View Product | View Product | View Product |