Here is what you're looking at when shopping for the best EV SSL certificate prices…
EV SSL certificates are surely a worthy consideration when deciding what SSL certificate validation level to purchase. They carry quite a few benefits – namely providing users the ability to verify your website and organizational details via the certificate details found in your web browser, higher warranties and recommendations from respected government bodies, such as ENISA.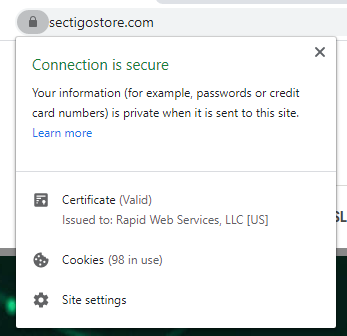 However, with it being the highest level of validation and carrying the most prestige, it's also the most expensive SSL cert validation level. When looking at the question "What is the best EV SSL certificate price?" It depends what you consider "best." In this blog, we take you through a few options that will hopefully make you a much more informed shopper going forward.
Most Affordable EV SSL Certificate
There is a good chance you meant what is the most "affordable" EV SSL price when you asked "what is the best EV SSL certificate price?" You won't find an EV SSL cert more affordable than the $60-$100 per year range, which is pretty good cause that comes to somewhere around $6 per month. You aren't going to find any free options as well – as free SSL cert CAs don't offer higher levels of validation such as EV.
Here at SectigoStore.com we have the PositiveSSL EV SSL Certificate available for $79.84 per year. When you factor in our 24/7 support and our longstanding, well cultivated relationship with a highly respected, premier CA like Sectigo, this is just about as good as it gets in terms of affordable yet quality EV SSL certificates.
Multi-Domain EV SSL Certificate May Be The Best Option for You
Sometimes going right for the "most affordable" SSL certificate won't be the most affordable for you down the line. A multi-domain EV SSL certificate offers the same great benefit of displaying your organizational details in the user's browser and it also secures an additional 2 domains at no extra cost. You also can secure up to 250 domains total under one certificate.
So, if you're planning to secure more than one domain with an EV SSL certificate, the PositiveSSL EV Multi-Domain SSL Certificate is the way to go. Not only can you secure 3 domains for the flat fee total of $144.86 (about $48 per domain), the real value comes in convenience. With an EV multi-domain SSL certificate you can secure up to 250 domains in one swoop. This means one issuance, one expiration date – everything can be handled at once! This is real convenience in addition to affordability.
But you're also getting the best EV certificate cost – just $48 per domain, per year.
What is The Best EV SSL Certificate Price – Product Comparison