My guess, if you're reading this, is that you already know what an SSL certificate does. It establishes an encrypted communication channel over the wire so that the data you transmit stays secure. There are three types of SSL/TLS certificates based on the level of validation – domain validation (DV), organization validation (OV), and extended validation (EV). You can get an SSL with company name to display in the certificate details and on the drop-down menu that appears when you click the padlock.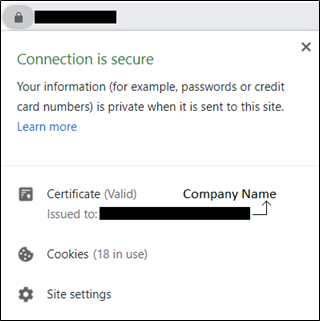 However, if you're looking to get an SSL certificate with company name that displays in the URL bar itself, the short answer is that you no longer can. At least, not one that will display like that in Mozilla Firefox or Google Chrome. Chrome, since its release of version 77, has already removed the company name and country code from the address bar for all EV certificates regardless of the issuing CA. Firefox followed suit with version 70 (released on October 2019). To view the company information, users will now need to click on the padlock icon even for extended validation certificates.
Among the five most popular browsers (based on market shares), Microsoft Edge and Internet Explorer (IE) continue to support SSL certificates with company name web address bar display capabilities.
DV vs OV vs EV
What are the differences between these three types of SSL certificates? Let's compare the different validation levels to see which may be the best fit for your organization. We will also look at which SSL certificate displays your company in the browser.
Features
Domain Validation
Organization Validation
Extended Validation
Description
DV SSL certificates only verify the domain ownership. They have the least stringent vetting process, thus offering the lowest levels of authentication.
OV SSL certificates have a much more exhaustive investigation process, and the applicants need to prove that their business is a legitimate legal entity. They offer reasonable assurance about the identity of the server.
EV SSL certificates have the most rigorous vetting process. Consequently, they offer the highest level of authentication when compared to DV and OV SSL certificates.
Validation Process (and the Steps involved)

Domain Control Validation

Organization Authentication
Locality Presence
Telephone Verification
Domain Control Validation
Final Verification Call

Organization Authentication
Enrollment Form
Operational Existence
Physical Address
Telephone Verification
Domain Control Validation
Final Verification Call

Common Features

Encryption Strength: Up to 256-bit strong encryption and a 2048-bit RSA signature key
Browser Compatibility: Trusted by almost all browsers
Unlimited Re-issuance
Unlimited Server Licenses

Issuance Time
Minutes
1-3 business days
Up to 5 business days
Visual Indicators
Removes negative indicators, activates site seal, policy identifier (if present): 2.23.140.1.2.1
Activates padlock indicator, site seal, organization name can be viewed under certificate details, policy identifier (if present): 2.23.140.1.2.2
Name of the company specified under 'Issued to' on clicking the padlock, site seal, all positive indicators
Warranties
Starting at $10,000
$50,000 to $1milion
$1 million to $1.75 million
Secure a Website in Few Clicks – Save Up to 79%
Save 79% on Sectigo SSL Certificates. It includes unlimited server licenses, reissuances, 256-bit encryption, and more.