Diving into "what is an EV SSL certificate?" to ensure you find the right SSL cert option for you!
From a technical security perspective, all SSL certificates accomplish the same thing – securing the communication between a browser and server with an HTTPS connection. However, some SSL certificates, like EV SSL certificates enable some additional features.
There are many variations and other considerations that should go into the process of selecting the right SSL certificates for you. You need to consider warranties, customer service, CA brand reputation, SSL certificate type and, of course, validation levels. Let's take a look at one of those validation levels – specifically let's look at what is EV SSL…
What is an EV SSL Certificate? A Quick Breakdown
The short answer to "What is an EV SSL certificate?" is that it's the highest validation level you can obtain for an SSL certificate. You will go through the most stringent validation process, but you will get a few key benefits:
You'll have the most respected SSL certificate on the market
Your site users will be able to confirm your verified organization details in their browser
Your site users will be able to avoid fake/scam websites
What Are Validation Levels?
Generally, all types of SSL certificates offer the same level of encryption technology – securing the communications between the browser and web server, which ensures the data/info in transit can't be intercepted. You also will receive the padlock icon in your URL regardless of the type of SSL certificate your purchase and install. However, the validation level does alter a few things.
The validation level reflects the amount of authentication you must go through to receive an SSL certificate. The most basic level of validation only checks your domain name, which means that even a hacker can complete the validation process. Higher levels of validation also check organization details to keep hackers out. Validation level differences are noticeable through the SSL certificate details shown in the user's browser (more on that in the next section).
What is an EV SSL Certificate?
The EV SSL certificate is the highest level of validation. The process of getting validated for an EV SSL cert includes:
An enrollment form
Organization authentication
Operational existence
Physical address
Telephone verification
Domain authentication
Final verification call
Yes, it's a pretty thorough process. So, you might be thinking, why bother getting an EV SSL certificate?
EV SSL Benefit #1: Display Your Verified Organization Details in the Browser
For one, savvy users and shoppers will be able to view your organizational details easily in their browser, while other validation levels don't offer the same identity display. This goes a long way in building trust with your customer as they can verify the organization's identity much easier.
All the user needs to do click on the padlock icon and they'll see your verified organization name: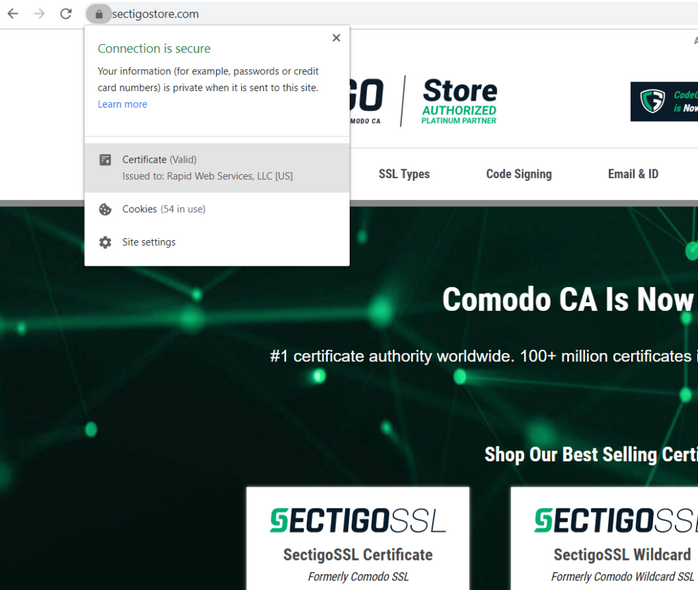 If they want to see more details, they can click on Certificate, then click on "details" and then "subject."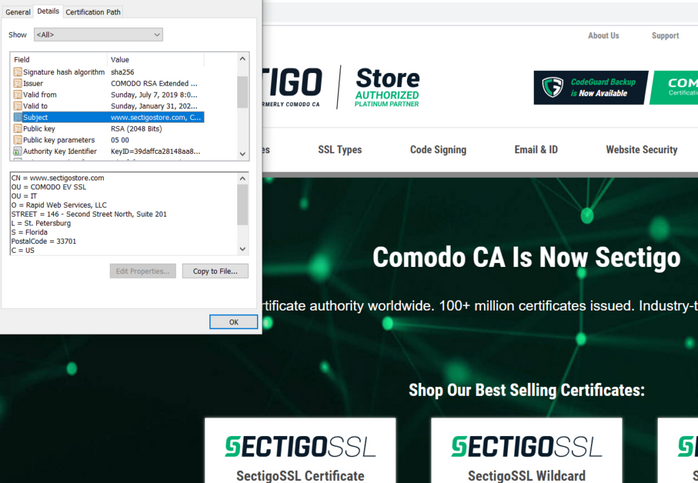 EV SSL Benefit #2: Higher Liability Protection
You're also typically going to get a higher warranty with an EV SSL certificate. Take the warranty range here on SectigoStore.com. EV SSL cert warranties range from $1M-$2M while DV SSL certs range from $10k-$50k. SSL warranties are highly important as they allow you to maintain a level of accountability on the CA.
EV SSL Benefit #3: Maintain Compliance & Follow Recommended Best Practices
Here's another great benefit: the European Union Agency for Network and Information Security (ENISA), which is the "centre of network and information security expertise for the EU, its member states, the private sector and Europe's citizens" recommends the practice of using an EV SSL certificate on your website.
Ultimately, EV SSL certificates act as a higher symbol of trust for users and show a higher level of commitment to security by you.
What Are the Other Validation Levels?
There are two other SSL certificate validation levels that you should know:
DV SSL certificates – This is the least stringent level of validation. Also, it's the fastest issuance process (often taking just minutes). You only need to get your domain validated. The DV cert is perfect for more simple websites, such as a blog.
OV SSL Certificates – This is generally regarded as the middle option. There aren't as many steps in the validation process as an EV cert, but more than a DV cert. The process includes organization authentication, locality presence, telephone verification, domain verification and a final verification call.
SectigoStore.com Has Trusted EV SSL Certificates at Affordable Prices
So, we have answered "what is an EV SSL certificate?" If you're looking for a wide range of EV SSL certificates from a trusted CA, look no further than SectigoStore.com. From excellent prices to 24/7 support, this is the place for your EV SSL shopping!